RMM Software – What is it and why you need it?
Prevention is better than the crash!
It is nearly impossible in this day and age to work without technology.  Individuals expect an instant response to emails, orders need to be placed online and even our phone systems are gradually moving to digital.
It makes sense therefore to ensure that the technology we use is secure, up to date and if something is going wrong that we know about it in advance?
This is what Remote Monitoring and Management (RMM) is all about.  It is a software application combined with the Deycom support team, that remotely monitors, manages and support all of your important IT device so you know they are secure, up to date and that an alert will be created if something wrong is detected.
RMM software also has a ransomware solution called Datto RMM Ransomware Detection.  This feature monitors for the existence of ransomware on a person's computer or your servers and it will then try to isolate the device from the network and at the same time it will send an alert to Deycom to let us know a device might be infected.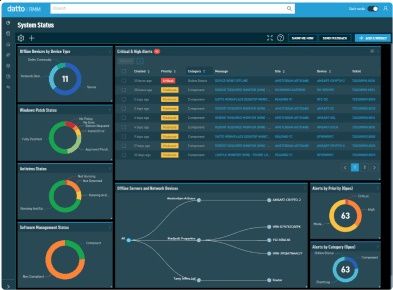 RMM can also provide you with an executive health check summary so you can quickly get an overview on how your IT system are performing and it enables you to see which areas are working well and which of your system you may need to consider upgrading.
So the question should really be, how can you afford NOT have RMM software running in your business.
If you want to see the benefit of RMM for your business, we can organise a free 30 day trial.  Just contact our sales team on 059 9130777 or email info@deycom.com for further details.