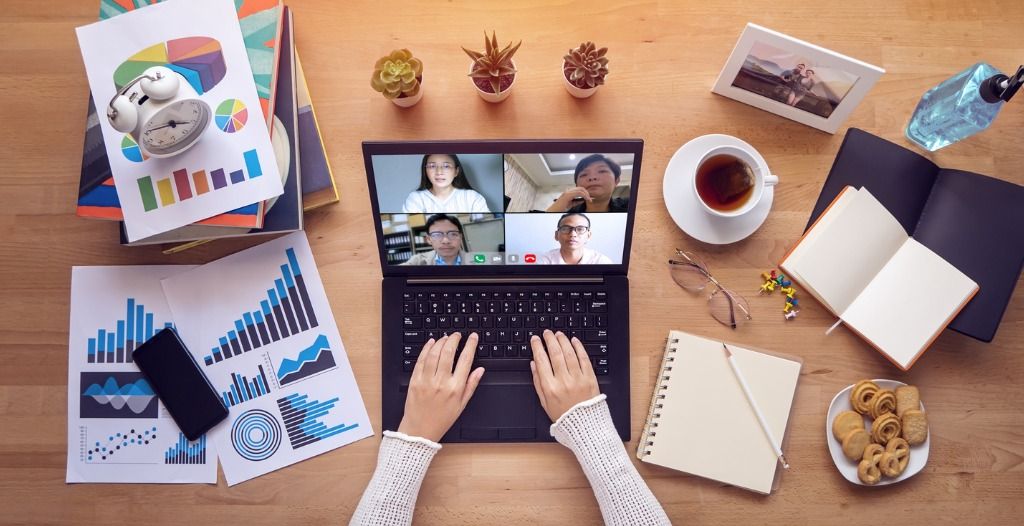 IT Solutions for your hybrid workforce
Following an enforced period of working from home, we have now returned to the workplace (hurrah!), however having seen the enormous benefits of remote working, many companies opted to maintain flexibility in how and where their team works. Adapting a hybrid way of working, and empowering employees to combine in-office presence with remote working is becoming the norm. Today we are focusing on IT Solutions for your hybrid workforce.
What cannot be denied is that a functional hybrid model is of key importance to the evolution of business today.
The daily acknowledgment that the centuries-old concept of a five-day, 40-hour work week at a fixed location needed to be challenged is hard to be ignored.  Did you know that this traditional work week was invented by Henry Ford in 1926 and designed to serve manufacturing plant assembly lines, not the modern workplace?
Also, the notion that your employees work smarter and harder when in person is also a myth that has been dispelled in recent times – in fact, productivity during the pandemic was off the scale. At the end of last year, many publicly quoted companies recorded some of their best financial results.
The benefits of remote working are innumerable and include
A wider talent pool from which to recruit
Improved retention rates
Improved employee well-being thanks to a greater work/life balance
Increased productivity due to improved employee wellbeing
Reduced commuting hours offer time, health, and cost benefits
Ability to Grow Headcount Without Added Space Costs
Environmental improvements
That said, there is a downside.  With the ability for your team to work remotely (successfully) comes the need for ensuring that your IT infrastructure such as hardware, hosting, software, and security is replicated beyond the four walls of your office.
There is no doubt that many companies hastily adopted a working from home set up with the view, like the rest of us, that the situation would be short term.  Little did we know that our approach to work would be turned on its head, and for the better.
The downside of a hasty approach meant vulnerabilities or disruption to workplace continuity if the IT requirements were not properly mapped out.
We have worked with so many clients ensuring that their remote/hybrid/flexible approach to work is supported by a robust IT infrastructure that ensures business as usual.  
Adapting the correct IT setup is paramount to a successful remote/hybrid team.
As a long-time, IT Solutions provider to some the Leinster's most successful businesses, we want to give you a little insight into what we are doing for our clients.  You could view this as a checklist for your own requirements, a road map to successful remote working!
Assessing the IT architecture on mobile devices (laptops, handhelds etc.) ensuring it meets the needs of your business
How can we enhance the employee experience of using existing business systems?
Evaluating security risk and potential for security breaches when employees are not based in the office
Implementing best practices in terms of security, cyber security, and cloud hosting on all devices
Ensuring continuity of IT security
Enabling a plug and play situation where employees can instantly and seamlessly connect to the office environment when working in-house or remotely
Ensuring the provision of the correct hardware to facilitate flexibility (laptops, docking stations, etc.)
Ensuring seamless access to the company's shared drives / shared locations/software
Ensuring visibility of all hardware as required.
Are employees set up for success regardless of location
What is stopping them from getting work done, how can IT / Technology
Four elements to successful hybrid working
To be successful in supporting a hybrid way of working, the right infrastructure is critical to success so that your team can work effectively in a number of different scenarios such as from their home office, in your physical office, or in the local coffee shop. on the go. This includes creating processes that support remote work, such as flexible work hours, IT infrastructure, successful communications regardless of an individual's location, time tracking, downtime, and more.
If we were to analyse the many factors that influence a successful hybrid way of working, we would narrow them down to four central themes.  
Technology
The right technology tools are a must for any hybrid infrastructure. IT that helps organizations transform and reimagine everything from meetings that don't rely on a central location and to a digital employee experience that can be accessed from anywhere. The role of technology should be as an enabler
Culture
Successful hybrid working starts with a clear and transparent culture that supports your business goals. Leaders need to be visible, supportive, and empathetic for success. Flexible in through and approach and understanding the needs of their team for successful outcomes.
People
Hybrid working should support inclusion and greater flexibility, in both where and when people work.
Processes
Office habits and cultures don't always translate to the remote environment; therefore, processes need to be rethought for different working scenarios. 
If you are interested to understand how we can support you in ensuring you have a robust approach to a flexible workforce, please get in touch today
Deycom Managed IT Solutions Carlow:                   059 9130777
Deycom Managed IT Solutions Kilkenny:                056 7813060
Deycom Managed IT Solutions Kildare:                   045 397118
Deycom Managed IT Solutions Dublin:                    01 2233844